B.Mus in Music Education from Appalachian State University
MM in Percussion Performance from Appalachian State University
DMA form West Virgina University
Shawn M Roberts has been an adjunct instructor in the Hayes School of Music since 2005, currently serving as lecturer of Analyzing Style and Form in the General Humanities/Education area. He received his Doctorate of Musical Arts from West Virginia University where he focused on non-Western percussion while maintaining performance in Western traditions. He holds an MM in Percussion Performance and a BM in Music Education, both from Appalachian State University.
Dr. Roberts is an active and eclectic performer, serving as Principal Percussionist with the American Prize winning Western Piedmont Symphony, providing accompaniment for the Appalachian State Theatre and Dance Department, and percussionist with da Capo Brass. Notable performances include the Millennium Stage at the Kennedy Center in Washington, D.C., the Lotus Blossom World Music and Arts Festival in Bloomington, Indiana, and Director of the West Virginia University Steel Band during the induction of Ellie Mannette into the Percussive Arts Hall of Fame. Dr. Roberts founded World Wide Productions in 2005, overseeing various musical and artistic endeavors, including Eya! Afrolachian Drum and Dance Troupe performing and teaching traditional music and dance from a variety of countries across the African continent, the Caribbean and Middle-East.
In addition to performance, Dr. Roberts is passionate about community programs. He conducts numerous workshops in schools both public and private, has served as a scholar and coordinator for Mapping the Beat, a program under the aegis of Arts Bridge America and funded by National Geographic, partnered with the Western Youth Network in creating music programs for underprivileged youth, and is a regular instructor for the Duke University Talent Identification Program (TIP) serving academically gifted children across North Carolina.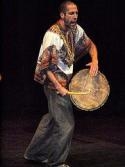 Title:

Dance Musician - Accompanist
Department:

Theatre and Dance

Email address: Email me

Phone: (828) 262-8213