MFA Acting/Directing Regent University
BA in Theatre Arts from Gardner-Webb University
Mr. Brad Archer joined the faculty of Appalachian State in the fall semester of 2014. He received his MFA in Acting with Directing Concentration from Regent University in 2010 where he performed his thesis role as Dr. Treves in Bernard Pomerance's The Elephant Man. He specializes in the Meisner acting technique and has training in Hagen, Linklater, Practical Aesthetics, and Lugering. He is a certified actor-combatant with the SAFD and has trained in Unarmed Combat, Single Sword, Broadsword, Rapier and Dagger, and Quarterstaff. Mr. Archer has performed on stage in here in Boone, Charlotte, Asheville, New York, Los Angeles, and spent time touring the Eastern United States. During his time teaching at Gardner-Webb University in Shelby, NC, Mr. Archer taught Theatre Survey, Advanced Acting, and Stage Combat. Currently Mr. Archer teaches various performance courses. You can find more information at his personal website at bradarcher.com.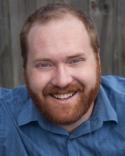 Title:

Lecturer, Theatre Arts - Performance
Department:

Theatre and Dance

Email address: Email me

Phone: (828) 262-6375