The Bourgeois Gentleman
By Molière, translated by Bernard Sahlins
Directed by Derek Gagnier
February 23 through 26 at 7 p.m., February 27 at 2 p.m.
Valborg Theatre
"Le Bourgeois Gentilhomme" is a 1670 work by renowned French playwright Jean-Baptiste Poquelin, better known by his stage name Molière. In "The Bourgeois Gentleman," a new translation of the original play by Bernard Sahlins, Molière's beloved comedy features a rising member of the middle class who lusts for social status and higher learning. The strength of the play lies in its rich comic invention and its sure delineation of character. Its underlying themes of social striving, financial greed, and love's ingenuity still resonate. Molière surely knew how to make a joke, and he was a skilled inventor of comic situations. But his lasting appeal is a product of his brilliant employment of these talents in the service of character rather than gags, of behavior rather than comment.
Produced by special arrangement with Concord Theatricals.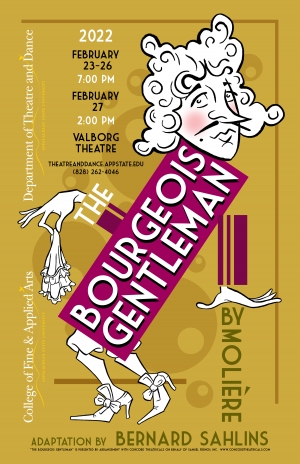 Tags: