By Keith Martin
(Boone, N.C.) — The Appalachian State University Department of Theatre and Dance presents the regional premiere of Five Mile Lake, an award-winning drama by Rachel Bonds described as a modern-day Chekhovian drama with minimalist sensibility. The production will be staged in the Valborg Theatre on the university campus with performances at 7 p.m. from Wednesday, Feb. 26, through Saturday, Feb. 29, and a 2 p.m. matinee on Sunday, March 1.
This regional production of Five Mile Lake is directed by Dr. Ray Miller, interim chairperson of the Department of Theatre and Dance and a Dance Studies and Theatre Arts professor. Five Mile Lake is a production that features mature content.
In his director's notes, Miller says, "Five Mile Lake has a story line to be sure but there are also 'spaces between.' It is a play that focuses in on the lives of five young people – each of whom have been out a of high school or college for a few years - and who are now desperately re-evaluating the choices made and the "the road not taken.
"As we stretch ourselves from the past into an unknown future, there is risk. No doubt. But as the playwright reminds us, what is most important is to question, to confront, and to not runaway. Our choices – good or bad – have consequences. But living, really living, demands our fullest attention to ourselves and those we share our lives with. Our past is not necessarily our destiny. We have choices. And therein lies – hope," Miller said.
Introducing The Cast and Creative Team
The Appalachian production showcases the talents of five students from the Department of Theatre and Dance. The role of Peta is played by Cielo Gomez from Bailey, North Carolina, a sophomore theatre performance major. Brothers Jamie and Rufus are played by Parker C. Stone from Charlotte, North Carolina, a senior theatre performance and communications double major, and Clayton Paige from Mount Pleasant, North Carolina, a sophomore theatre performance major. Senior theatre education major Joe Perdue from Greensboro, North Carolina, is cast the role of Danny while junior theatre performance major Joy Siler from Asheville, North Carolina, portrays the role of Mary.
Theatre faculty John Marty and Martha Marking are designing the sets and costumes, respectively, with guest designer and Appalachian alum Timothy Snyder designing the lighting and guest artist George Antczak serving as sound designer. Students with major production responsibilities include Alex Koncsol as stage manager and Sage Espinosa as properties master; both students are seniors from Charlotte, North Carolina, majoring in theatre design and technology.
Tickets, Parking and Logistics
Tickets are $10 for students, $15 for faculty/staff, and $17 for adults and are available at the Schaefer Center for the Performing Arts box office weekdays from 9 a.m. to 5 p.m., by phone at 800-841-ARTS (2787) or 828-262-4046 or online. The Valborg Theatre is located on campus at the north side of Chapell Wilson Hall on Howard Street and the theatre entrance faces the back of the Turchin Center for the Visual Arts on King Street. Parking on campus in staff/faculty spots is available weekdays after 5 p.m., with the Rivers Street parking deck and the College Street parking deck near Belk Library and Information Commons available after 5:30 p.m.
About Five Mile Lake
A moving portrait of a group of young people, yearning to make the right choices — and facing the choices they have already made — as they journey into their thirties in a rapidly transforming world.
A fog settles over a small town nestled on the banks of a pristine lake in Western Pennsylvania. As the play begins, the fog lifts over the lives of troubled 20-somethings, scrambling to escape the stifling weight of the past and leave naïve adolescent daydreaming for the hard work of creating lives that are meaningful. What unfolds includes the still burning ambitions of Mary, who is locked into the day-to-day responsibilities of working in a bakery while caring for her erratic war veteran brother, Danny. Her friend, Jamie, harbors an unrequited love while patiently caring for an ill mother. Jamie's flamboyant and irreverent big brother from "the city," Rufus, invades this still-water town with his cosmopolitan girlfriend, Peta, and unleashes a barrage of anger and hurt that is just barely under the surface. Being in your 20s is never easy but we see these characters struggle to understand, to connect, to "make meaning" out of lives still young in years, but old in terms of experience. This experience is informed by dashed and stalled dreams, a desire to commit, yet a reluctance to give up one's freedom – ultimately, to keep "the options open."
Recipient of the 2013 Weissberger New Play Award from the prestigious Williamston Theatre Festival, the work has received critical acclaim. The Los Angeles Times reported that, "Five Mile Lake contains all that passion, betrayal, violence, and heartbreak in the pauses between words… with a gift for quotidian dialogue with a deep well of subtext. It doesn't really sound like dialogue. It sounds like the way people talk."
About the Playwright
Rachel Bonds is a native of Sewanee, Tennessee. In a recent interview with the Chicago Sun-Times, the author said, like many playwrights, she was an actor first but words and writing were present from an early age. Bonds credits her high school with its writing-based curriculum as the engine that kept her writing throughout her adolescence.
Bonds plays have been developed or produced by Ars Nova, WP Theatre, Manhattan Theatre Club, McCarter Theatre, Roundabout Underground, Atlantic Theater Company, South Coast Rep, La Jolla Playhouse, Studio Theatre, Actors Theatre of Louisville, Williamstown Theatre Festival, and New York Stage & Film, among others.
Photo Credit: Lynn Willis
Poster Credit: Brad Parquette
###
About the Department of Theatre and Dance
The Department of Theatre and Dance is one of seven departments housed in Appalachian's College of Fine and Applied Arts. Its mission is to facilitate transformative experiences for students and the public, which cultivate compassionate, creative and collaborative communities through theatre and dance. The department also offers coursework for integrated learning through the arts to the general university student population. Its dynamic co-curricular production program provides exemplary theatre and dance experiences to departmental students, the university community and the region.
About Appalachian State University
Appalachian State University, in North Carolina's Blue Ridge Mountains, prepares students to lead purposeful lives as global citizens who understand and engage their responsibilities in creating a sustainable future for all. The transformational Appalachian experience promotes a spirit of inclusion that brings people together in inspiring ways to acquire and create knowledge, to grow holistically, to act with passion and determination, and embrace diversity and difference. As one of 17 campuses in the University of North Carolina system, Appalachian enrolls about 19,280 students, has a low student-to-faculty ratio and offers more than 150 undergraduate and graduate majors.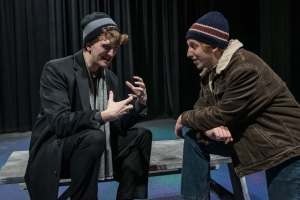 Tags: