The Thanksgiving Play
By Larissa FastHorse
Directed by Dr. Derek Davidson and Teresa Lee
September 29 through October 2 at 7 p.m., October 3 at 2 p.m.
Valborg Theatre
In "The Thanksgiving Play," good intentions collide with absurd assumptions in Larissa FastHorse's wickedly funny satire, as a troupe of terminally "woke" teaching artists scrambles to create a pageant that somehow manages to celebrate both Turkey Day and Native American Heritage Month. Larissa FastHorse (a proud member of the Sicangu Lakota Nation) is a 2020 MacArthur Fellow, award-winning writer and choreographer, and co-founder of Indigenous Direction, the nation's leading consulting company for Indigenous arts and audiences. The New York Times said that "The familiar, whitewashed story of Pilgrims and Native Americans chowing down together gets a delicious roasting from expert farceurs." The Hollywood Reporter wrote, "Very, very funny. 'The Thanksgiving Play' skewers liberal pretensions with glee – this clever satire is something for which to be truly thankful."
THIS PRODUCTION CONTAINS MATURE CONTENT,
INCLUDING DISTURBING IMAGES REFERENCING THE VIOLENT TREATMENT OF INDIGENOUS PEOPLE.
Produced by special arrangement with Concord Theatricals.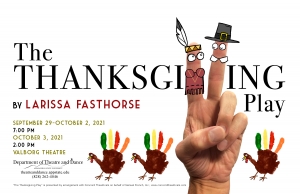 Tags: