By Amanda Brasier
The classic tale of "Dracula," with a campy twist and stops in the High Country, is coming to the airwaves of WASU-FM 90.5 on Oct. 31 and Nov. 1 at 8 p.m. thanks to the talents of students and faculty in Appalachian State University's Department of Theatre and Dance and Department of Communication.
The student cast of "Dracula" brings the spooky stylings of the infamous vampire and his quest to find new blood and spread the undead curse in a throwback radio drama similar to "War of the Worlds."
"Dracula is coming … to Boone," said Clayton Paige, a junior theatre performance major from Mount Pleasant who plays the drama's title role. "We're going to be broadcasting the story of 'Dracula' in Boone with great talent from the university on the spookiest day of the year."
Revising the script to add university and High Country landmarks was Derek Gagnier's idea.
Gagnier, associate professor of theatre performance, said he strengthened the speaking parts for female characters Lucy and Mina and changed the direction of Dracula's travels to add familiar landmarks, such as App State's Schaefer Center for Performing Arts, as the story's villain makes his way around the High Country before traveling to Wilmington en route to his home in Transylvania.
"You can go anywhere in your mind; that's what good acting is all about — being able to picture it in your head," said Gagnier, who used the script from the original Mercury Theatre's 1938 broadcast.
"We had an awful lot of fun, and this was really good training for our students. For many of them, it was their first time doing this type of performance, and they were able to play several characters since it is presented as a radio drama," he added.
Collaborating with WASU
After years of looking for a performance for the radio station to work with the Department of Theatre and Dance, Gagnier and WASU-FM General Manager Dan "Vallie" Hill realized the department's socially distant virtual fall season offered the perfect opportunity for collaboration.
"As a college radio station, we have the flexibility and creativity to offer an hour long radio drama," Hill said. "I hope it becomes an annual tradition for people to be able to listen to our broadcast at 'Dracula' at Halloween. We chose 8 o'clock for the broadcast since no self-respecting vampire would come out before dark."
WASU students are assisting with final edits to the production, adding sound effects and creating promotional announcements to encourage listenership. Listeners can find WASU-FM 90.5 through online streaming, the station's iHeartRadio phone app and over radio airwaves.
Recounting the spooky experience of creating Dracula
"It was a unique experience when you're not constrained by the confines of a 12-by-12 stage or the budgetary constraints of a film," said Paige, who added it would have been unlikely for him to be cast as Dracula in a stage production since he's 6-foot-2-inch red head who doesn't give off a Dracula vibe.
"It's really the roots of the horror genre to imagine what isn't shown and isn't spelled out for you," Paige said. "I was able to embody the character and let the audience fill that in with their imagination."
Kat Sokol, a senior who is double majoring in theatre performance and English-creative writing, plays the role of Mina, one of Dracula's intended victims.
"I was excited about playing Mina because in this (Gagnier's) version of Dracula, Mina is a much bigger character," Sokol said, who added this adaptation is much less male-centric than the traditional "Dracula" script. "When I first read the script, I thought, 'it's fun, it's Boone, it's kind of campy,' but when you get into the heart of the story, you accept you're in this place that's so familiar —the Dracula story."
Adapting from a stage performance to a voice performance was challenging as an actor, Sokol admitted.
"Standing at the microphone requires you to let go of any sense of self-consciousness and trust this group," she said. "You're not working with the same type of subtleties as when you're working on the stage. You realize — I'll just hiss. You have to be bigger and bolder — you just have to go for it."
The cast of "Dracula" will give share their premiere performance on Halloween, with an encore performance Nov. 1.

"It's going to be a different year for trick-or-treating, and this is a treat we can offer," said Vallie Hill. "This version of 'Dracula' is more kid-friendly but also compelling and scary."
To tune in:
What: 'Dracula': Presented by App State's Theatre and Dance and Communication departments
When: Saturday, Oct. 31, and Sunday, Nov. 1 at 8 p.m.
Where: On the radio at WASU-FM 90.5, on the iHeartRadio WASU app, streaming through WASUfm.com or by telling Alexa to "Play WASU-FM."
About the Department of Theatre and Dance
The Department of Theatre and Dance is one of seven departments housed in Appalachian's College of Fine and Applied Arts. Its mission is to facilitate transformative experiences for students and the public, which cultivate compassionate, creative and collaborative communities through theatre and dance. The department also offers coursework for integrated learning through the arts to the general university student population. Its dynamic co-curricular production program provides exemplary theatre and dance experiences to departmental students, the university community and the region.
About the Department of Communication
One of seven departments housed in the College of Fine and Applied Arts, the Department of Communication at Appalachian State University focuses on preparing students to succeed in the varied fields within the communication industry. The department offers five majors – advertising, communication studies, electronic media/broadcasting, journalism and public relations – and a minor in communication studies. Graduates work in a wide range of positions in media, corporate, agency, government and nonprofit organizations. Learn more at https://communication.appstate.edu.
About the College of Fine and Applied Arts
Appalachian State University's College of Fine and Applied Arts is a dynamic and innovative group of seven academic departments, bringing together a variety of perspectives, experiences and real-world education to provide unique opportunities for student success. The college has more than 3,000 undergraduate and graduate majors. Its departments are Applied Design, Art, Communication, Military Science and Leadership, Sustainable Development, Sustainable Technology and the Built Environment, and Theatre and Dance. Learn more at https://faa.appstate.edu.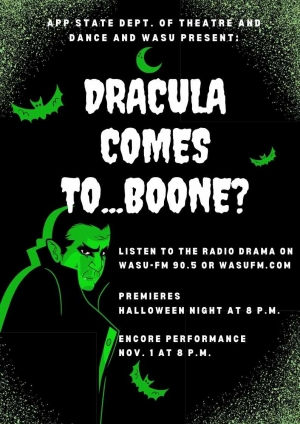 Tags: