Ph.D. in Performance Studies, Northwestern University
M.A. in Film Studies and Screenwriting, Beijing Film Academy
M.A. in Theatre and Drama Studies, University of London
B.A. in English, Chinese University of Hong Kong
Dr. Kin-Yan Szeto is Professor of Theatre and Dance and Faculty Fellow for Diversity at Appalachian State University. Previously, she taught performance studies at Northwestern University and film studies at the University of California, Irvine. Dr. Szeto's teaching and research interests include theatre, dance, film, and performance studies; comparative literature; postcolonial and global studies; and gender and ethnicity in transnational perspectives.
A productive writer, Dr. Szeto has over twenty publications. Her writings have appeared in scholarly sources including Oxford Bibliographies in Cinema and Media Studies, Visual Anthropology, Adaptation, Jump Cut, Dance Chronicle, The China Quarterly, and Modern Chinese Literature and Culture. She has also written for edited volumes on film, theatre, and performance studies. Her book The Martial Arts Cinema of the Chinese Diaspora was published by Southern Illinois University Press and, according to the WorldCat database, is owned by over 1,000 libraries. The book analyzes how a unique "cosmopolitical awareness" allows film directors and artists to succeed in today's transnational environment of media production, distribution, and consumption. She has also shared her expertise with news publications; for example, she was interviewed for a New York Post article, entitled "How Jackie Chan's Kickass Fighting Style Evolved Over His Career."
In addition to her scholarly work, she is a director and choreographer. She has directed more than fifteen plays, including Henrik Ibsen's An Enemy of the People, Brian Sloan's WTC View, Gao Xingjian's The Other Shore, Stan Lai's Pining in Peach Blossom Land, and Sarah Ruhl's Eurydice.
Dr. Szeto has received numerous awards and grants. At Appalachian State, these include the 100 Scholars Research Award (2011), the College of Fine and Applied Arts Outstanding Scholarly and Creative Endeavor Award (2011, 2020), the Global Learning and Teaching Award (2014), and a University Research Council grant (2019), among others. Recently, she received a New York Public Library Research Fellowship and is a fellow of the BRIDGES Academic Leadership Development for Women program with the University of North Carolina William and Ida Friday Center.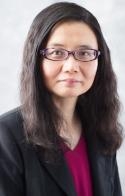 Title:

Professor, Theatre Arts - Performance Studies
Department:

Theatre and Dance

Email address: Email me

Phone: (828) 262-3028