Below is a list of upcoming department related performances and events. Click on the event title for details.
Students interested in participating as performers are invited to visit Auditions for more information.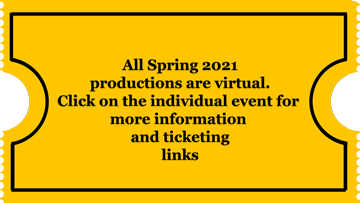 Upcoming Performances
Tuesday, January 5, 2021 to Wednesday, May 5, 2021

With pandemic safety measures top of mind, the Appalachian State University's Department of Theatre and Dance announces six virtual events for the spring 2021 semester. The events include a storytelling production, a best of dance showcase, a festival of 10-minute plays, a children's play and more.

Wednesday, April 21, 2021 to Sunday, April 25, 2021

Boone, NC -- On May 4, 1970, Kent State University student Ray Miller was walking to class when he became an inadvertent witness to history. As Miller passed by a peaceful, student-organized rally opposing the Vietnam War, soldiers from the Ohio National Guard fired 67 rounds of ammunition into the crowd. In 13 seconds, four students were killed and nine others wounded, leaving an entire nation to cope with the tragedy.

Wednesday, April 21, 2021 to Sunday, April 25, 2021

A new play that chronicles the four days leading up to the deadly shooting of students by the Ohio National Guard on the Kent State University campus in May 1970. This event left four students dead, 13 others wounded and a nation in disbelief. Read a feature about the performance here. 

Saturday, May 1, 2021

Theatre students in the Directing Techniques course are producing 5 new 10-minute plays from playwrights across the country.