B.A. in Theatre, College of Saint Benedict in Minnesota
M.A. in Renaissance Drama, University of Warwick in England
Ph.D. in Theatre and Drama, University of Wisconsin--Madison
Dr. Paulette Marty, Professor of Theatre Arts, joined the Department of Theatre and Dance in 2004. Her teaching specialties are theatre history, play analysis, dramaturgy, directing, and cross-disciplinary topics. Paulette's research specialties include contemporary stage directors, Elizabethan theatre and spectacle, and the performance of folklore. She has published in various theatre journals and periodicals, is the author of Contemporary Women Stage Directors: Conversations on Craft (Methuen Drama, 2019) and serves as a production dramaturg and director on departmental productions.
Dr. Marty's play about art collectors Etta and Claribel Cone had a staged reading by In/Visible Theatre in fall 2019 in conjunction with the Blowing Rock Art and History Museum's exhibit "Modern Visions, Modern Art: The Cone Sisters in North Carolina."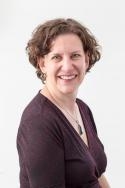 Title:

Professor, Theatre Arts - History
Department:

Theatre and Dance

Email address: Email me

Phone: (828) 262-8178