B.A. in Theatre, College of Saint Benedict in Minnesota
M.A. in Renaissance Drama, University of Warwick in England
Ph.D. in Theatre and Drama, University of Wisconsin--Madison
Dr. Paulette Marty, Professor of Theatre Arts, joined the Department of Theatre and Dance in 2004. Her teaching specialties are theatre history, dramatic literature, dramaturgy, and cross-disciplinary topics. Paulette's research specialties include contemporary stage directors, Elizabethan theatre and spectacle, and the performance of folklore. She has published in various theatre journals and periodicals and serves as a production dramaturg and director on departmental productions.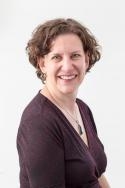 Title:

Professor, Theatre Arts - History
Department:

Theatre and Dance

Email address: Email me

Phone: (828) 262-2028