Bachelor of Fine Arts from Utah State University
Master of Fine Arts from Brigham Young University.
Prior to coming to ASU in 2009, Mr. Helms was a professor of theatre at Snow College in Ephraim, UT. In his 22 years at Snow College, Mr. Helms designed scenery and lighting for over 80 productions and directed some 25 productions.
He was lighting and set designer for the Nevada Ballet Theatre in Las Vegas for 9 years. In that time he has designed lights for some 36 productions. He has worked with nationally recognized choreographers and repetitures and has toured with the Nevada Ballet in throughout the western United States and in Europe.
He was technical director/production manager for the Utah Shakespearean Festival from 1988-1994. In addition, he has designed scenery for Ensemble Stage, The Barter Theatre Players, the BYU Opera and The Jackson Hole Playhouse. He has also designed lighting for The American Folk Ballet.
He is a regular contributor to the VectorWorks website. His work can be seen on the VectorWorks website gallery at http://www.vectorworks.net
Michael's personal website may be found at
http://mlhscenicandlighting.com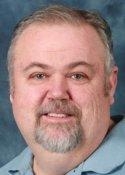 Title:

Professor, Theatre Arts - Design
Department:

Theatre and Dance

Email address: Email me

Phone: (828) 262-3028