Emily Daughtridge received her M.F.A. with a concentration in Dance Performance from The Ohio State University in 2004. While attending OSU she held a Graduate Associate position with the Wexner Center for the Arts, working with arts education and outreach programming. From 2002-04 Emily served on the faculty of the Silesian Dance Theatre's international dance festival in Bytom, Poland, co-directing the community outreach programs for otherly-abled and teaching modern dance technique for the festival's pre-professional dance program. Emily presented at the 2004 CORD conference in Taiwan.
From 1996 to 2001 Emily was a professional dancer with both the Jan Van Dyke Dance Group and the John Gamble Dance Theater. Emily has continued to perform and collaborate with a number of independent artists including XFactor Dance Company and G Alex and the Movement.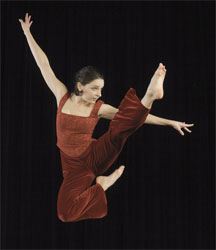 Emily chaired the 2007 North Carolina Dance Alliance Annual Event.
In 2008 she received the Outstanding Teaching Award for the College of Fine and Applied Arts at Appalachian State University.
Also in 2008 Emily completed a Yoga Alliance 220 hour Teacher Training program and became a nationally certified yoga instructor.
Title:

Associate Professor, Dance Studies
Department:

Theatre and Dance

Email address: Email me

Phone: (828) 262-2404