For the eighth consecutive year, the Appalachian Musical Theatre Ensemble at Appalachian State University is producing an all-student run musical with the international smash hit Mamma Mia! This jukebox musical is based on the award-winning catalog of songs by the Swedish pop music group ABBA, one of the most popular international groups of all time. Performances are scheduled in Legends Concert Hall on the university campus at 7 p.m. on Friday, Nov. 15, at 2 and 7 p.m. on Saturday, Nov. 16, and at 5 p.m. on Sunday, Nov. 17. Tickets are $10 for students and $15 for adults and may be purchased online, in person in the Plemmons Student Union the week of the show and, if available, at the door prior to each performance.
The title of the musical is taken from ABBA's 1975 chart-topper, "Mamma Mia" and the story is set on a Grecian island in the Aegean Sea. The heart-warming plot follows a young bride on the eve of her wedding and the search for her father, which begins when she brings three men from her mother's past back to the island after a period of 20 years. The timeless music paired with energetic dance numbers and a touching story make Mamma Mia! the ultimate feel-good show.
Each performance features familiar songs such as "Super Trouper," "Lay All Your Love on Me," "Dancing Queen," "Knowing Me, Knowing You," "Take a Chance on Me," "Thank You for the Music," "Money, Money, Money," "The Winner Takes It All," "Voulez-Vous," "SOS," and the title track. Over 65 million people have seen the show, which has grossed $5 billion worldwide since its 1999 debut. A film adaptation starring Meryl Streep, Colin Firth, Pierce Brosnan, Amanda Seyfried, Christine Baranski, Stellan Skarsgård and Julie Walters was released in July 2008. The music of ABBA is timeless and people from all generations recognize the classic tunes while identifying with the themes of family and friendship and its uplifting message. This AMTE production is presented by special arrangement with Music Theatre International.
The Appalachian Musical Theatre Ensemble is the production arm of the Appalachian Musical Theatre Club (AMTC) and provides performance and production opportunities to all university students regardless of major. The organization takes great pride in their unique ability to create an entirely student-run musical with officers of the club serving as producers for the show while leading a cast, crew, and orchestra comprised entirely of students from Appalachian State University. The club is affiliated with the Department of Theatre and Dance.
Mamma Mia! is directed by Hannah Champion, a junior general theatre major from Youngsville, NC, with music direction by Parker Hallman, a sophomore theatre education major from Catawba, NC, and features choreography by Jordan Glyder, a senior political science major from Charleston, SC. The AMTE company of 28 includes students from every academic class with 17 freshmen, five sophomores, two juniors, and four seniors.
Dr. Derek Davidson, faculty adviser for the club, said that, "The High Country is going to benefit from a true trifecta of theatre excellence: one of the most professional and creative organizational teams in the club's history, some of the most talented performers our program has seen, and a super-fun musical whose appeal crosses generations. I'm so proud of the AMTC, comprising scores of hardworking, dedicated students who put in hundreds of voluntary hours out of sheer love for the art form."
Legends Concert Hall is located at 190 Harden Street on the campus of Appalachian State University, near the intersection of highways 321 and 421 in Boone, NC. Parking is available weekdays after 5 p.m. on campus in faculty/staff lots and after 5:30 p.m. in the Rivers Street parking deck or the College Street parking deck near Belk Library and Information Commons, a short distance from both Plemmons Student Union and Legends Concert Hall.
Header Image– Sophie Sheridan's three fathers would never let her down, but if only the bride-to-be knew exactly which one was her biological parent, hence the dilemma in the musical "Mamma Mia!" Pictured here are, from left to right, Travis Pressley, a freshmen theatre education major from Hendersonville, Zachary McDermott, a first year business management major from Holly Springs, NC, and Owen Ward, a sophomore graphics design and fashion design major from Charlotte. They are holding Lyndsay Snider, a freshman mathematics major from Leesburg, VA. Photo credit: Sam Emmert, a senior theatre performance major from Winston Salem.
Meet the Dynamos! – At the wedding of Donna Sheridan's daughter, The Dynamos reunite for one night only to bring music to the island. They are played by, from left to right, Lily Jordan, a senior theatre performance major from Charlotte, Heather Locklear, a senior theatre performance major from Indian Trail, and Hannah Magee, a junior theatre performance major from Lexington NC. Photo credit: Cielo Gomez, a sophomore theatre performance major from Bailey, NC
About the Department of Theatre and Dance
The Department of Theatre and Dance is one of seven departments housed in Appalachian's College of Fine and Applied Arts. Its mission is to facilitate transformative experiences for students and the public, which cultivate compassionate, creative and collaborative communities through theatre and dance. The department also offers coursework for integrated learning through the arts to the general university student population. Its dynamic co-curricular production program provides exemplary theatre and dance experiences to departmental students, the university community and the region.
About Appalachian State University
Appalachian State University, in North Carolina's Blue Ridge Mountains, prepares students to lead purposeful lives as global citizens who understand and engage their responsibilities in creating a sustainable future for all. The transformational Appalachian experience promotes a spirit of inclusion that brings people together in inspiring ways to acquire and create knowledge, to grow holistically, to act with passion and determination, and embrace diversity and difference. As one of 17 campuses in the University of North Carolina system, Appalachian enrolls over 19,000 students, has a low student-to-faculty ratio and offers more than 150 undergraduate and graduate majors.
MEDIA CONTACT:
Parker Hallman, 705-651-7560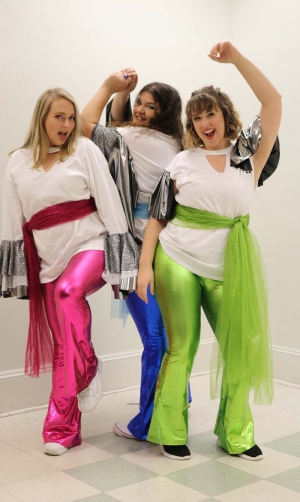 Tags: