Ever Wonder How He Became Peter Pan?
The Appalachian State University Department of Theatre and Dance presents Peter and the Starcatcher, with script and lyrics by Rick Elice and music by Wayne Barker. The production will be staged in the Valborg Theatre on the university campus with performances at 7 p.m. from Wednesday, Oct. 2, through Saturday, Oct. 5, with a 2 p.m. matinee on Sunday, Oct. 6.
About Peter and the Starcatcher
Based on the novel of the same name by Dave Barry and Ridley Pearson, Peter and the Starcatcher is a wildly theatrical show, with characters ranging from marauding pirates and jungle tyrants to unwilling comrades and unlikely heroes. It is a family-friendly show that playfully explores the depths of greed and despair... and the bonds of friendship, duty, and love. This story of how a young orphan became Peter Pan, "the boy wouldn't grow up," is widely acknowledged as the prequel to the famous tale created by Scottish novelist and playwright J. M. Barrie in his 1911 classic Peter and Wendy. The original Broadway production won five 2012 Tony Awards and was named "Favorite Play of the Season" at the Broadway.com Audience Choice Awards.
According to Professor of Theatre Arts Teresa Lee, director of the production, Peter and the Starcatcher is a touching and adventurous tale that highlights the importance of home, friends, family, and becoming your true self. In fact, the idea of "becoming" is one of the production's important thematic elements. "All the characters are becoming someone else or something they long for. It is a production full of wonder, a beautiful show that has something for everyone." Lee said, while describing the performances as "lively, irreverent, and zany at times."

The set design places the storytellers on a theatrical stage from the 1880s. Lee wants the mood of the production to be childlike, and to do that she asked the cast to, "think about the way that children play." She said the script "makes use of imagination in such an exquisite way," which is demonstrated through various forms of storytelling. While the play's characters all have different destinations, they are all on the journey together. Lee cites as an example the character Molly Aster, who starts as a lonely know-it-all who uses her experience with "the boy" to become a leader. Likewise, Black Stache, the highly intelligent but malapropism-prone pirate chief relies on the empowerment of "the boy" to be a true villain because, "what's a villain without a hero?"
Introducing The Cast and Faculty
The Appalachian production showcases the talents of five first-year students and five seniors, along with seven sophomores and juniors from the Department of Theatre and Dance who, according to Lee, "will sing, dance, and act their way into your hearts." The lead male role, the boy who becomes Peter Pan, is being played by junior theatre performance major Dalton Forster from Garner. Freshman theatre performance major Alex Rowland from Gastonia is portraying the part of Molly Aster.

Theatre Faculty members Mike Helms, John Marty, and Sue Williams are designing the sets, lights, and costumes, respectively, with Hayes School of Music Professor Dr. Meg Stohlmann serving as music director and Theatre Professor Derek Gagnier as dialect coach. Students with major production responsibilities include junior Alex Koncsol from Charlotte as sound designer, senior Sarah Large from Dallas, NC, as properties designer, and junior Carson Rainey from Raleigh as stage manager. All three of these students are theatre arts majors concentrating in theatre design and technology.
Tickets, Parking and Logistics
Tickets are $10 for students, $15 for faculty/staff, and $17 for adults. Tickets are available at the Schaefer Center for the Performing Arts box office Monday through Friday from 9 a.m. to 5 p.m., by phone at 800-841-ARTS (2787) or 828-262-4046 or online. The Valborg Theatre is located on campus at the north side of Chapell Wilson Hall on Howard Street and the theatre entrance faces the back of the Turchin Center for the Visual Arts on King Street. Parking on campus in staff/faculty spots is available daily after 5 p.m., with the Rivers Street parking deck and the College Street parking deck near Belk Library and Information Commons available after 5:30 p.m.
###
Photo Credits: Lynn Willis
Media Contact: Keith Martin
828.262.8179
martinkt1@appstate.edu
About the Department of Theatre and Dance
The Department of Theatre and Dance is one of seven departments housed in Appalachian's College of Fine and Applied Arts. Its mission is to facilitate transformative experiences for students and the public, which cultivate compassionate, creative and collaborative communities through theatre and dance. The department also offers coursework for integrated learning through the arts to the general university student population. Its dynamic co-curricular production program provides exemplary theatre and dance experiences to departmental students, the university community and the region.
About Appalachian State University
Appalachian State University, in North Carolina's Blue Ridge Mountains, prepares students to lead purposeful lives as global citizens who understand and engage their responsibilities in creating a sustainable future for all. The transformational Appalachian experience promotes a spirit of inclusion that brings people together in inspiring ways to acquire and create knowledge, to grow holistically, to act with passion and determination, and embrace diversity and difference. As one of 17 campuses in the University of North Carolina system, Appalachian enrolls about 19,280 students, has a low student-to-faculty ratio and offers more than 150 undergraduate and graduate majors.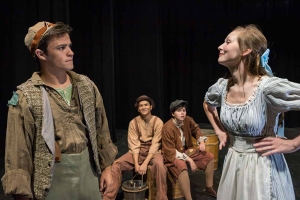 Tags: