A Fable for Now
by Wei Yu-Chia
(Translated by Jeremy Tiang)
March 1-5, 2023
Valborg Theatre
Directed by Kin-Yan Szeto
Students $10, Faculty/Staff $15, Adults $17
A Fable for Now is a satirical and allegorical fable about the present and future of the earth. It calls out all of humanity on many fronts such as climate change, loss of habitat, exploitation and captivity of animals, food production and processing, ineffectiveness of global summits, and the increased brutality of war. Inspired by world literary classics ranging from Aesop's Fables to Zhuangzi's collections of anecdotes, the play, written by one of the "world's most respected dramatists" (PEN World Voices Festival), showcases magical and fascinating tales of the human race hurtling towards a surreal apocalypse in the company of a combative duck, an intelligent polar bear, and an incredible panda, not to mention a fun-loving genetically modified chicken. This will be the play's world premiere in an English-language production.
Produced by special arrangement with Laertes Books.
All evening performances begin promptly at 7 p.m. with matinee curtains at 2 p.m.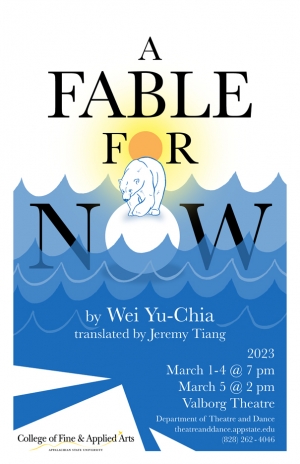 Tags: